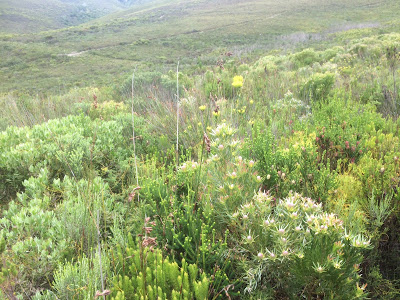 The world is divided into six floral kingdoms, according to the plant types occurring in each given region. The smallest and richest of these is the Cape Floral Kingdom, found only in the southern tip of Africa – in the Western Cape through to Makhanda (Grahamstown) in the Eastern Cape – and nowhere else in the world.
This 200 kilometre-wide region has a Mediterranean climate – cold, wet winters and summers that are hot and dry.
The main vegetation type is fynbos. Most of the plants are shrubs and bush, with fine, small leaves from which the name fynbos is derived (the Dutch fijnbosch is translated as 'fine bush'). Renosterveld, the subject of the previous blogs in this series, is a cousin to fynbos.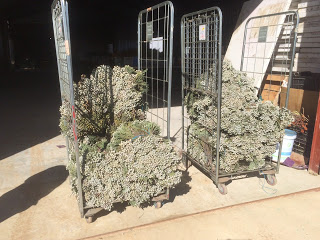 Fynbos may have adapted to both the weather and the nutrient-poor soils, but of late the threats have come from a different quarter:
Urban expansion
Agricultural expansion
Too frequent fires or fires "out of season"
Over-harvesting of fynbos for markets
Invasive plants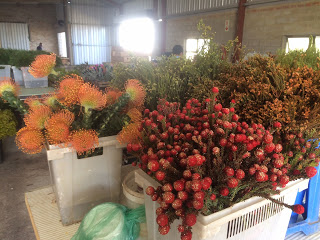 These challenges have translated to a disproportionate threat to fynbos flora: three-quarters of South Africa's threatened plants are found here; over 1 805 species threatened with extinction and 3 296 of conservation concern.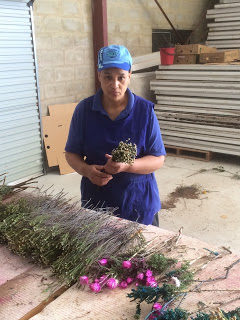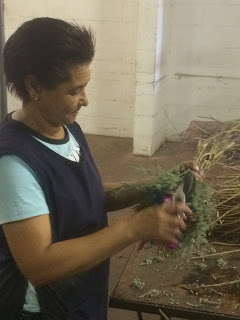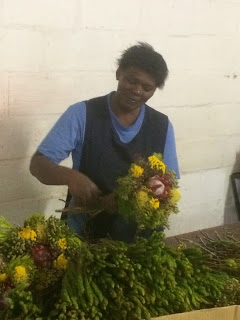 Here in Napier the fynbos is sorted and prepared, before packers make bouquets from them.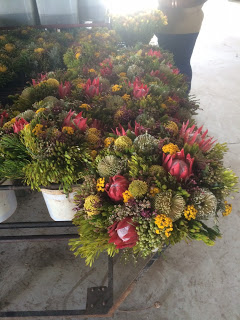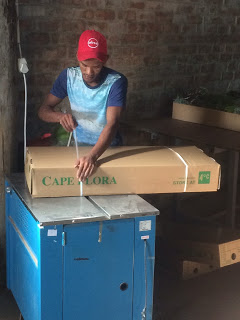 These are sold in supermarkets, florist shops and by informal traders. Bouquets are exported, mainly to Europe. Fresh fynbos goes mostly to the Netherlands to be sold at flower auctions.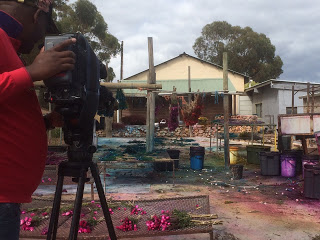 Dried, bleached or coloured fynbos is exported, Germany being one of the dominant destinations.
After an hour's stop we returned to the bus. We would be travelling to see where the fynbos value chain begins …