Last week the media was invited to the TLU SA Economic Sustainability Summit. The issues are serious and the same, no matter which national farmer body represents you. State support for commercial agriculture is minimal. Farmers carry production risk completely on their own, even if the whole value chain is dependent on them for its existence.
The day saw presentations by three TLU personnel/members: Gawie van Rensburg and Prof Koos de la Rey of the Economic Sustainability Committee, and Bennie van Zyl, general manager of the TLU SA. These talks listed the financial, logistical, environmental, legislative and other challenges facing farmers. A fourth speaker, Dr Gawie du Toit, an agronomist in the private sector, used case studies to show that maximum returns do not always equate to maximum profit; that conventional ways of doing things are not necessarily the most profitable.
An hour plus afterwards saw contributions from the floor, followed by a summation from the TLU president, Louis Meintjies, along with the drawing up of a plan of action.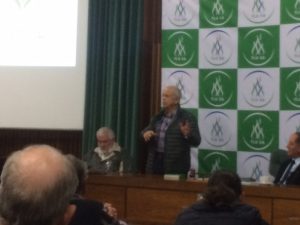 Above: Gawie du Toit addresses the summit.
Is there a way to finance the farm outside of banks and agricultural businesses (the old co-ops)? What other models exist? How can we spread the risk more fairly and sustainably across the whole value chain? Gerrie Strydom, a business consultant, offered his services to source funds and to help with business plans and red tape.
There is encouragement for farmers themselves to become part of the wider value chain.
Finding alternative revenue streams was suggested. These included agritourism, medicinal plants, game meat, cheese and other value add activities, with an emphasis on product quality.
The value of export markets, Europe in particular, was emphasised. Skills and other assistance could be sought from there, and elsewhere. The TLU SA recently sent van Zyl to Israel to look at technology there.
Bennie van Zyl is a big advantage for the TLU SA, as anyone in commercial agricultural circles will confirm. No one who has experienced his smile and big handshake more than once forgets him. He is passionate about what he believes in, and makes solutions to problems seem simple. On this day – whatever your views are – there is much to agree on.
He champions the idea of having mega farms, not mega farmers. A group of farmers combining resources and buying power holds many advantages over farming on your own. These include:
Securing finance and markets
Gaining economies of scale
Labour/access to mechanisation
Greater access to expertise
Safety and a sense of community
Better bridges with consumers
These collective ventures would be contracts, with entrant and exit clauses, which translates into no-one having to carry dead wood, individuals who are not really contributing to the greater good.
Van Zyl also champions negotiations along the value chain to spread the risk. It is after all in the interests of the entire value chain (and rural communities and beyond) that commercial farmers stay in business.
Volunteers are called for to draw up a plan of action, after which lunch is served.